Santa Cruz, CA
After a good night sleep I awoke in Santa Cruz, made a list checked it twice.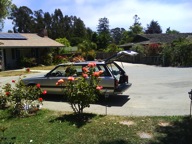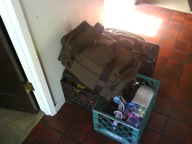 Sarah and Jacob, had recently commissioned Jesse and Ken to build a sound proof room in their garage. I called them and asked them if I could use their rooms for a few days. Being the super awesome cool people that they are, they said of course I could use their space, they were very accommodating.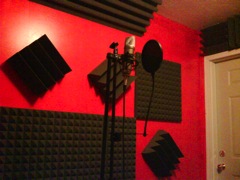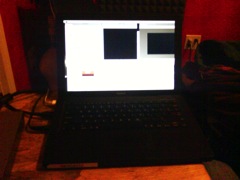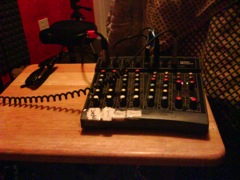 Due to technical difficulties, sometimes the signal wasn't making it's way through Final Cut's Voice over tool which was only solved by restarting the program. Which left the first recording session with Mr. Ross at a whopping 45 minutes..... This was going to be trickier than I originally suspected.
The problem was I believe a common short in the mixer, Joel had warned me of this.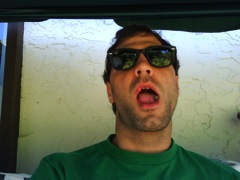 Trying to manage schedules with Mike was a doozy, it just so happend to be his Birthday weekend, also the same week he became employed for the first time since he moved back to Santa Cruz, as well as recently falling in love in a dedicated relationship, and adopting a cute as hell puppy.
His schedule was not flexiable to say the least. So I got a few other voice overs out of the way, fetus chatter and zombie moans and groans. Did some solo foley work.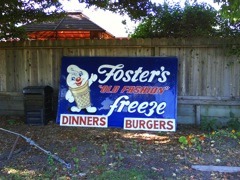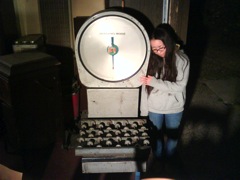 While in Santa Cruz my good friend and brother Lucius had collected some giant objects which included a giant Foster's Freeze sign and a humungous heavy shipping scale.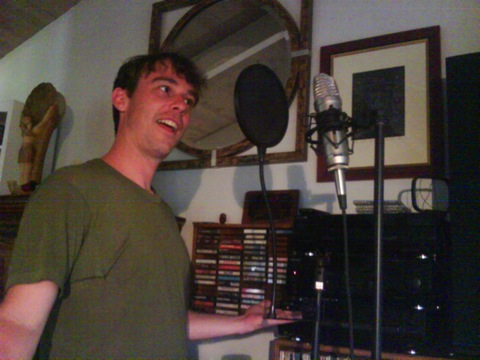 Above is Mr. Morgan Boyd recording voice for the fetus chatter then a little zombie moaning and groaning.
During the down time I ended up soaking up the time playing a little croquet, and catching some sun.